Article by Richard Kirton
Tuesday 21 May 2019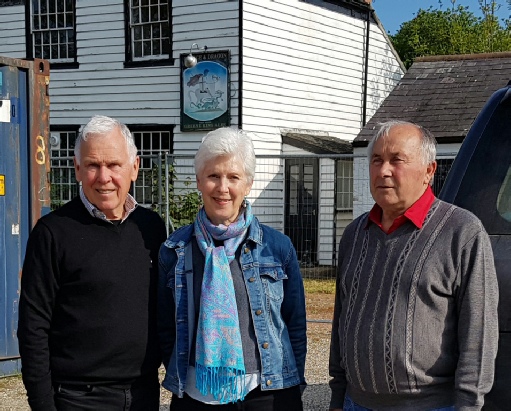 On Tuesday 21 May 2019, Roger Burroughs and I had the privilege of escorting Ron Bennewith and his wife Leslie on a trip to Churchend and Courtsend on Foulness Island. They currently live in a city called ''Pitt Meadows'' in south-western British Columbia, Canada, which is about 24 miles from Vancouver and has a population of approximately 19,000.
This trip came about as a result of Ron Bennewith contacting Bob Stephen of the Rochford District Community Archive, who then contacted me to see if I could assist Ron in his family history research.
I spoke to Roger Burroughs and he was more than willing to invite Ron and his wife to see the now closed George & Dragon and how it came to be one of the focal points of community life on Foulness Island. Ron Bennewith is the 7th Generation of James Bennewith and his then wife Amelia, once landlords of the George & Dragon P.H. on Foulness Island in the 18th Century.
Ron and Leslie decided to take a trip of a lifetime and fly to Fort Lauderdale in Florida and then take a cruise to Copenhagen. They then flew to Scotland which is where Leslie's heritage lies and then took the train to York and then on to London, staying in Bethnal Green. One of Ron's ambitions of the trip was to visit the George & Dragon on Foulness island, which up until 2007, was the only surviving Public House on Foulness. Ron was also keen to visit the churchyard of "St Mary the Virgin'' parish church and look for graves of his ancestors. Regrettably most of the older headstones were not legible.
Peter Carr, Chairman and Trustee of the Foulness Conservation & Archaeological Society kindly opened the Heritage Centre and gave a brief resume of the history of the island. Of valuable significance, Peter took us in to the research room where Ron and Leslie were free to peruse the known facts about the Bennewith family.
A very brief history of John Bennewith follows with more information available at the Foulness Heritage Centre, along with many other artefacts and facts about life on this unique island. The centre is open to members of the public from 12pm to 4pm on the first Sunday of each month from April to October.
After the death of his wife Jane on 25 September 1780, James Bennewith was left with 3 children, James 7, Mary 5, and William 3. Near the end of 1780, James moved to the George & Dragon on Foulness Island and met up with Amelia Bowls, who already had two illegitimate children before she met James. They married, however, by license on 4 June 1782, eight days before their first son Edward Bennewith was baptised on 17 June 1782. Amelia proceeded to have more children, Henry in 1784, Jane in 1786 and John in 1789, who went on to be known as the infamous bare-fist fighter.
Perhaps all these children were too much for James because he died in September 1789. Amelia then met Thomas Howgego and had another two children, but Thomas died in 1797. Amelia then met Isaac Easter and had yet another son. Amelia ran the George & Dragon herself, until 1796 when she gave up the license. She died on 13 August 1825.
John Bennewith became known as the ''Foulness Champion'', amongst the bare-fist fighters of that period. He was said to have been a "Giant of a Man", some 6' 2" tall, with some reports of 6' 6". In the early 19th century he undertook many of his bare-fist fights in the garden of the George & Dragon. Two of his most outstanding bouts were against "Bullock Bones" from Suffolk and "Rippengale" who was described as a "Marsh Waller".
In 1811 John was acquitted of larceny but in 1824, he was imprisoned for 7 years for stealing wheat and sent to a Prison hulk in Portsmouth. Prison hulks were decommissioned ships that authorities used as floating prisons in the 18th and 19th centuries.