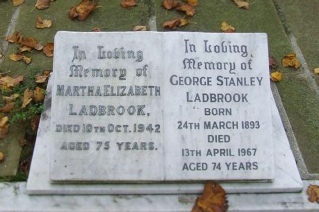 A memorial stone in Little Wakering churchyard marks the final chapter
in the extraordinary life story of royal confidante
George Stanley Ladbrook.
He saw history in the making - as personal chauffeur to King Edward VIII during the abdication crisis of the 1930s. Driving what was dubbed the most romantic car in the world, he helped the Duke of Windsor and his wife, the former Mrs Wallis Simpson, to escape the Nazis when France surrendered in World War Two. George and Edward became such close friends that the man who gave up the throne for the woman he loved became godfather to George's children, entertaining them at Christmas parties.
This is the remarkable story of George Stanley Ladbrook, as pieced together from family interviews, newspaper articles, ancestral records, some of my own photographs and other sources. (George's mother Martha shares his memorial stone)
My inspiration to write this article came from a Daily Mail newspaper clip given to me by David Bailey, passed to him by Pat (Forbes) Robbins. David's wife Dawn Bailey's father, Edward Mumford, happens to be the brother of Malcolm Mumford, brother in law to George Stanley Ladbrook. Dawn also provided the photograph of Malcolm Mumford and Edith Ladbrook's wedding (further down), along with most of the family genealogical facts. I wish to thank Dawn Bailey (Mumford) and also a long time school friend of mine by the name of Colin Newman who has given me invaluable assistance with this project.
Colin was in regular contact with George's son, Patrick Ladbrook, during the time he was a crime reporter for the Southend Standard and before his move to a desk-bound role as sub-editor. He got to know Patrick extremely well, when he headed up the crime prevention department in the Southend County Borough Police Force. Professionally, they worked closely on many crime-fighting campaigns; personally they met socially for a drink and a chat and Colin learned a lot about Patrick's dad, the royal chauffeur. Colin has pointed me to several news articles about George Ladbrook, Edward VIII and Mrs Simpson and has also furnished the title and opening paragraph of this article, which I have had the privilege of creating.
George Stanley Ladbrook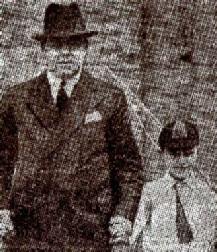 The small Memorial to George Stanley Ladbrook, official driver of Edward VIII for over 20 years and then Mrs Simpson, stands centre rear of the Ladbrook Memorial Plot in St. Mary the Virgin Churchyard, Little Wakering, Essex. He was born in Little Wakering on 24 March 1893 and died on 13 April 1967 aged74.
George drove two Buick official cars which unlike the usual cars belonging to the Monarchy, were both registered and had the following number plates: CUL 457 and CUL 421. The second car was used by Mrs. Simpson who, after the King's Abdication, became the Duchess of Windsor. This car was driven by a Mr. Wagstaff, who was Second Royal Chauffeur. Mr. George Ladbroke, who had been in the service of His Majesty for almost 20 years, was Head Chauffeur and invariably drove him on all occasions.
Powered by a straight eight-cylinder motor and over 20 feet long, it could reach 60mph in 18.5 seconds. Dubbed 'the most romantic car in the world' at a Bonhams' sale in 2007, the king's car sold for £100,500. Photo © Bonhams. Full details of the sale can be seen by viewing the Bonhams' website at https://www.bonhams.com/auctions/15348/lot/706/.
The following Daily Mail article, dated 28 October 1987, highlights in the words of George's son Patrick Ladbrook how close his father was to Edward VIII:
Chauffeur's son with a special link to the Buick
By Patrick Hill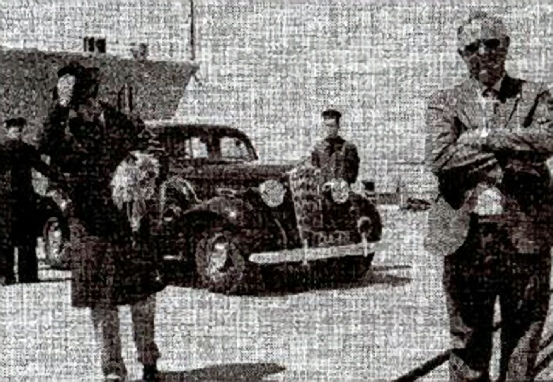 Every eye followed the magnificent Buick as it sped through the Unicorn Gate entrance to the Royal Navy docks at Portsmouth and onto the quayside where a destroyer was moored. From the back seat a figure in dark overcoat and homburg hat, with a Cairn terrier under his arm, emerged and rating's escorted him to the gangplank. This was the scene on the night of December 12, 1936, when King Edward VIII abdicated and left England for France on HMS Fury.
This week the Mail returned to the same quay to re-create those events. We used an actor as the King and models dressed as 1930's sailors to re-enact one of the most poignant moments in Royal history, with the help from the men of HMS Gloucester. The Buick, of course, was real. In this same car the King drove to Portsmouth from Windsor 51 years ago.
And on hand at the tableau was a VIP guest . . . the son of the Duke of Windsor's chauffeur, Patrick Ladbrook. His father George and the King became such friends that when George asked the Duke if he would be Godfather to Patrick, he readily agreed.
Patrick, 59, a retired police officer from Southend, said:
"My father loved the car. He helped the King draw up the redesigned coachwork for it. He felt it was his car as much as the King's."
"I can remember the King coming to visit us and me being asked to special Christmas parties."
"He was such a lovely and normal man. I was nervous before I met him, but he put me at ease straight away. In fact, I've still got one of the toys he gave me at Christmas."
"On certain occasions, the King would even let my father borrow the car, and he would all pile into the back of the Buick and go off on picnics. He trusted my father that much."
"It was a wonderful experience driving around at the age of eight in the back of the King's car. I remember it very well."
"My father was asked if he would like to drive for the Duke and Duchess after they married in 1937. He jumped at the chance. He drove them throughout their honeymoon."
"Then again, in 1940, my father returned to the Windsors when the Duke was made chief liaison officer with the French army during World War II."
"But it became a close run thing … because my father ended up driving them out of Paris when France surrendered."
"The King did my father a great honour. How else could a man like father have risen from a small Essex village to become the driver for the King?"
Source: Daily Mail, Wednesday, October 28, 1987
George Stanley Ladbrook's Family
Ernest Henry Ladbrook (b.1866) married Martha Corder (b.1867) in Rochford District in 1888. In the 1901 Census, Ernest was listed as being born in Thorpe-le-Soken, employed as a Bricklayer and living in Great Wakering with his wife and children, all born in Little Wakering.
Their final house was 'Dunrovin', next to the old Barling Gospel Mission Hall in what was then Barling Road. The house thrives to this day in what is now known as Little Wakering Road. The old Gospel Mission Hall was demolished and replaced by the house that can be seen to the left of 'Dunrovin'. The old Gospel Mission Hall is pictured below 'Dunrovin', just prior to demolition.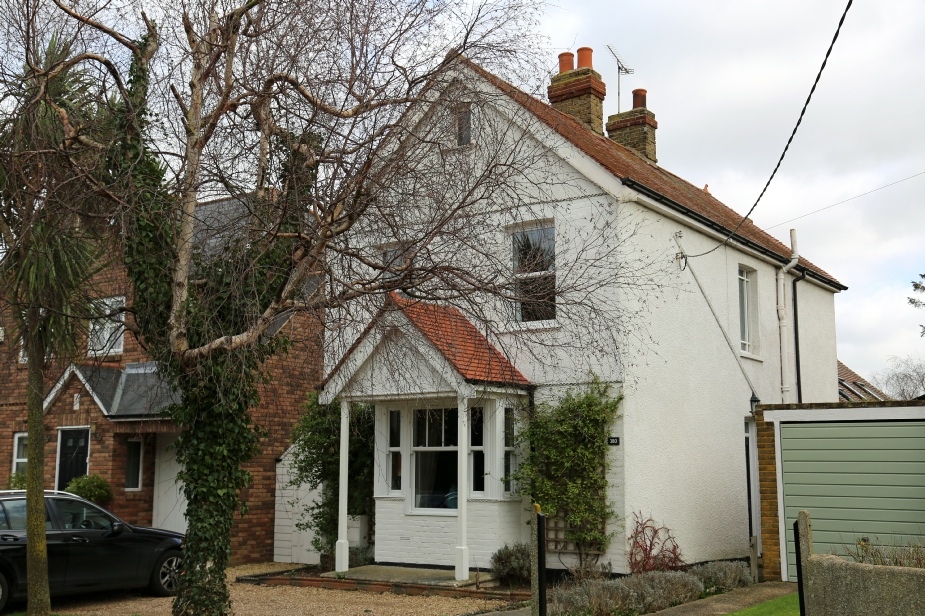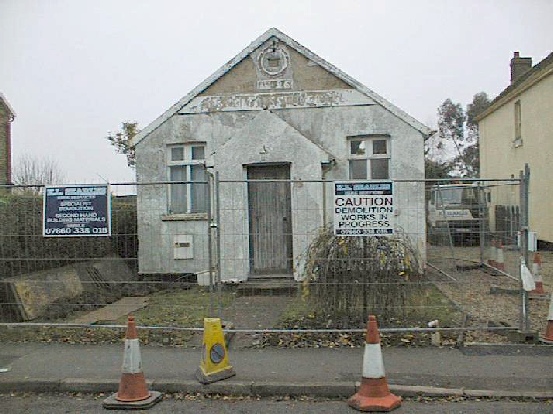 Ernest and Martha Ladbrook had the following children:
Ada Florence (b.1890 in Little Wakering) who married Mr Smith
George Stanley Ladbrook (b.1893 in Little Wakering). He married Sarah Isobel Keziah Larner (b.1895) in London in 1921. George and Sarah had the following children:
Noel Ladbrook (b.1923 in Lambeth District)
Geoffrey Ladbrook (b.1925 in Lambeth District)
Patrick Gordon Ladbrook (b.1928 in Lambeth District)
Audrey Ladbrook (b.1929 in Lambeth District)
Gladys Ladbrook (b.1896 in Little Wakering). She married John Sims and gave birth to the famous actress Joan Sims.
Edith Ladbrook (b.1913 in Little Wakering). She married Malcolm Mumford in Barling Church and they also lived in 'Dunrovin', Barling Road, where they had a Sweet Shop in the front of the house. Malcolm's siblings were:
Ruth Mumford
May Mumford
Edward Mumford
Twins, David and Philip Mumford
Edward Mumford was Dawn's Father and strangely enough in 1937, Sadie Jones (née Morgan) started teaching at Barling Magna School, in charge of the whole infant department. She described Barling Magna as an outpost of the Empire and lived, for a short time, with the Ladbrook family at 'Dunrovin' in Barling Road. Malcolm and Edith Mumford visited her many times after she returned to her home town of Aberdare in Wales. The photograph below is of Edith and Malcolm's wedding with Edith's nieces and Malcolm's brother and sisters. They are from left to right May Mumford, Audrey Ladbrook, Edward Mumford, Malcolm Mumford, Edith Ladbrook, Ruth Mumford and Joan Sims.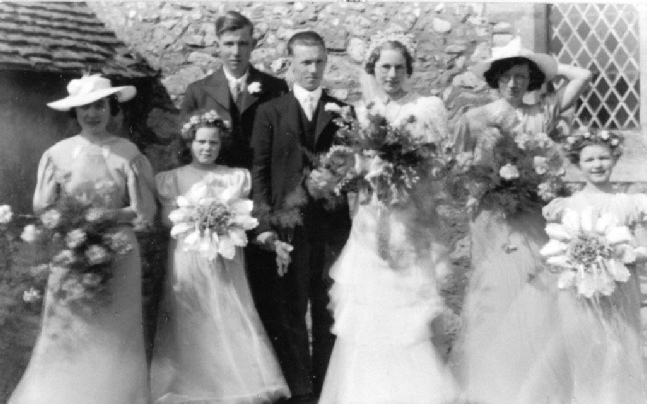 The Ladbrook Memorial Plot at St Mary the Virgin, Little Wakering
On entering the main gates of the church over to the right, lies a large Memorial Plot, unmistakable by its large stone cross sitting upon a cut square stone.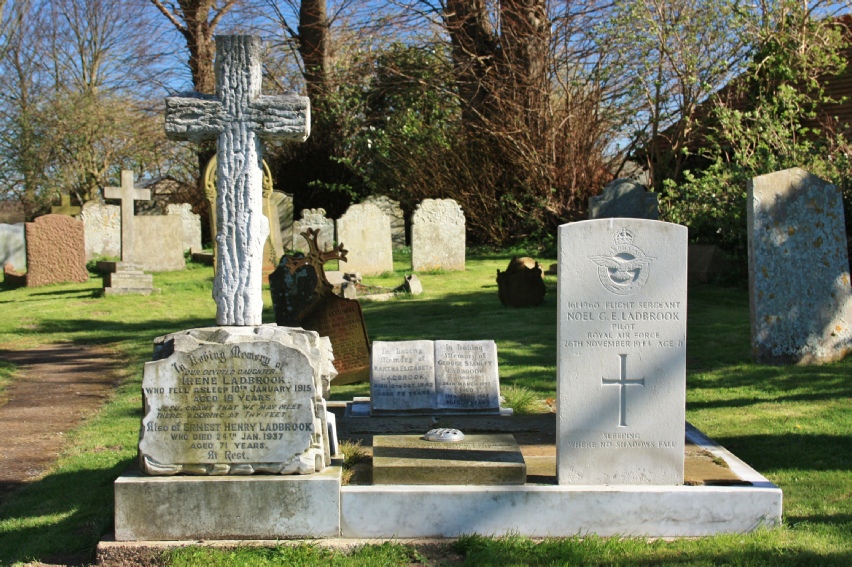 LEFT
IRENE LADBROOK died on 10th January 1915 aged 16
ERNEST HENRY LADBROOK died on 24th January 1937 aged 71.
CENTRE FRONT
GEOFFREY DAVID PETER LADBROOK was born on 2nd February 1925
and died on 28th August 2005 aged 80. He was interred in Holy Trinity Churchyard, Southchurch Boulevard.
CENTRE BACK
MARTHA ELIZABETH LADBROOK died on 10th October 1942 aged 75
GEORGE STANLEY LADBROOK was born on 24th March 1893
and died on 13th April 1967 aged 74.
RIGHT
Flight Sergeant NOEL G E LADBROOK, Pilot 1614960, RAF, died on 26th November 1944 aged 21.
Just to the right of the above plot lies another headstone, facing the opposite way round.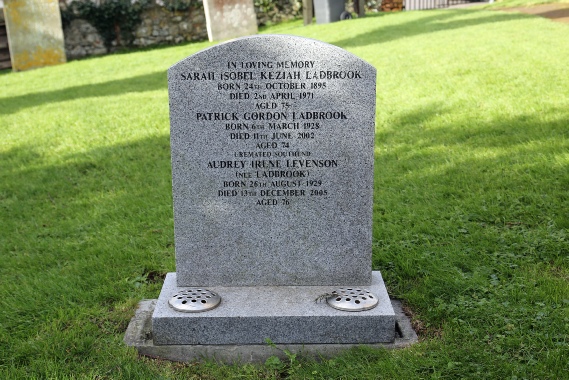 This Memorial is dedicated to:
George Ladbrook's wife, Sarah Isobel Keziah Ladbrook
born 24th October 1895 and died 2nd April 1971 aged 75.
George Ladbrook's son, Patrick Gordon Ladbrook born
6th March 1928 and died on 11th June 2002 aged 74.
George Ladbrook's daughter, Audrey Irene Levenson
(née Ladbrook) born 26th August 1929 and died
13th December 2005 aged 76.
A Reminder of the Short Reign of Edward VIII
Edward was never crowned; his reign lasted only 325 days. His brother Albert became King, using his last name George. As Prince of Wales, Edward VIII reigned from January to December 1936 and officiated through various regional visits and engagements. He became very popular because of his good war record and genuine care for the underprivileged. Edward was the first monarch to be a qualified pilot and created the King's Flight (known as 32 (The Royal) Squadron) in 1936 to provide air transport for the Royal family's official duties.
In 1930, Edward, Prince of Wales met and fell in love with a married American woman, Mrs Wallis Simpson. Concern about Edward's private life grew when Mrs Simpson obtained a divorce in 1936 and it was clear that Edward was determined to marry her. Eventually Edward realised he had to choose between the Crown and Mrs Simpson who, as a twice-divorced woman, would not have been acceptable as Queen. Following his abdication, Edward was created Duke of Windsor on 8 March 1937 and married Wallis Simpson in a ceremony in France.
During the Second World War, the Duke of Windsor escaped from Paris, where he was living at the time of the fall of France, to Lisbon in 1940. The Duke of Windsor was then appointed Governor of the Bahamas, a position he held until 1945. He lived abroad until the end of his life, dying in 1972 in Paris (he is buried at Windsor).
The world's press loved to follow the movements of Edward VIII and Mrs Simpson and often mentioned their chauffeur, George Ladbrook. What I do find quite remarkable is that George Ladbrook appears to have quickly disappeared from media attention once his employment by Edward VIII had ceased. The ending of this story on the face of it, is really sad, since we are left with so many unanswered questions about what happened to George.
As Colin Newman points out, "what happened to him when he was hauled before the court." The news story said he was tried and freed; it doesn't make clear whether he was found not guilty of being drunk and disorderly, or whether, maybe, the case was proved but he was, for instance, conditionally discharged (which would have meant he was "freed"). If he was, in fact, cleared of the charge what does that say about the evidence from the policeman who witnessed the incident? Strange one...but it was, of course, reported in an American paper!
David and Dawn Bailey spoke to Patrick a few times when he came to some exhibitions at the Women's Institute Hall Barling. Audrey and Patrick came to Barling to 'Dunrovin' during the Second World War as evacuees and went to Barling School for a while. 'Dunrovin' still exists in Barling, now called 380 Little Wakering Road, Barling next to where the old Barling Gospel Mission Hall used to be. On the 1901 Census it said that George was born in Little Wakering but it is not known exactly where. His address in Kelly's Directory in 1950 after the abdication was 69 Hamstel Road, Southend.
What a coincidence since I (Richard Kirton) was a four-year-old and happened to be living just a few roads away in St Lukes Road at that time. I have included below some transcriptions from a few newspapers and you will notice alternative spellings of his surname. Also, you will notice that Wallis Simpson was also known as Wallis Warfield and was born Bessie Wallis Warfield on June 19, 1896, in Blue Ridge Summit, Pennsylvania. In fact she was also known as:
Wallis Warfield Simpson
Wallis Simpson
Wallis, Duchess of Windsor
Wallis Spencer
Duchess of Windsor
Bessiewallis
Bessie Wallis
There is an excellent Biography of Wallis Simpson complete with videos on 'The Biography.com' website.
03 December 1936
'Angry' Mrs. Simpson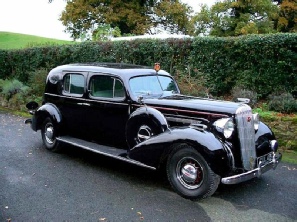 On Thursday 3 December 1936 the New York Times quoted a friend of an 'angry' Mrs. Simpson saying, 'She is now determined that she will not leave the country unless the king commands her to do so. She does not want it said of her that she quit under fire. If she leaves at all she wants to go with banners flying and not creep from the country secretively like a fugitive.'
Later the same day though that is exactly what she did. Thick fog enveloped the king's country house Fort Belvedere near Sunningdale as Mrs. Simpson, accompanied Lord Brownlow, the king's advisor, chauffeur George Ladbrooke and Inspector Evans of Scotland Yard, left on the seventy-mile drive to Newhaven, ultimately heading for Cannes.
Source: New York Times, Thursday, December 3, 1936
15 December 1936
Mrs. Simpson will Get Royal Title if she marries Exile
Royal Chauffeur Leaves
Another sign that her exceptional situation is changing was the departure for England today of George Ladbrook, who for eighteen years was Edward's personal chauffeur who piloted Mrs. Simpson's automobile in her flight across France. Ladbrook left with a heavy heart, having little expectation he would get a Job with the new royal family.
At the same time, he was unwilling to follow Edward into exile.
More poison pen letters of threatening nature poured in on Mrs. Simpson today. She was kept busy replying to hundreds of sympathetic letters from friends.
Source: Chicago Tribune Dec. 15, 1936
31 May 1937
Duke of Windsor's Chauffeur Leaves London to Attend Wedding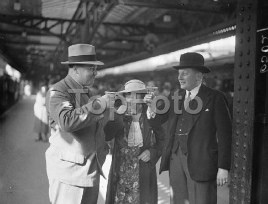 Duke of Windsor's chauffeur leaves London to attend wedding after being invited by phone. George Ladbrook, chauffeur of the Duke of Windsor 18 years, left London, to attend the wedding of the Duke of Windsor and Mrs. Wallis Warfield at the Château de Candé (castle located in the commune of Monts, Indre-et-Loire, 10 km to the south of Tours on the border of the Indre River). The Duke telephoned Ladbroke at his Kennington flat to confirm Ladbrook's promise to drive him on his honeymoon. It was Ladbrook who drove Mrs. Wallis Warfield (Simpson) across France when she left England just before the Duke abdicated. Ladbrook says he would have gone to wish the Duke luck, even if he had not been invited to the wedding. Photo shows, George Ladbrook (left), drinking a toast to the Duke of Windsor with his wife (centre) and a friend as he left Victoria 31 May 1937 | Photo from European Collections.
Source: http://www.europeana.eu/portal/record/2024904/photography_ProvidedCHO_TopFoto_co_uk_EU049020.html
24 September 1937
Defends Duke and is Freed
London, England – George Ladbrook, former chauffeur for the Duke of Windsor, was tried and freed in Bow St. police court Friday on a charge of being drunk and disorderly when he made a vigorous defence of his former master against the criticisms of a soap box orator.
A constable testified that he asked Ladbrook to be quiet when the latter interrupted the orator. Ladbrook retorted: "I will not be quiet. I won't stand by and hear anything against the Duke of Windsor. He's telling a pack of lies."
Source: The Milwaukee Journal - Sep. 24, 1937
14 May 1938
Now a Doorman
Duke of Windsor's Chauffeur
Cannot Get a Driving Job
(From A Special Correspondent. By Air Mail)
The man who was the Duke of Windsor's chauffeur for 18 years and who drove Mrs. Wallis Warfield across France before the Abdication, cannot get another driving Job. George Ladbrook now earns his living opening the doors of cars and taxis at a London restaurant. Ladbrook's wage is 2s 6d a week, less 1s 7d for health and unemployment insurances, leaving a total of l1d a week. But he makes more than £3 a week in tips, and the Treasury pays him a pension of £2 a week for his services to the Duke.
"I'm all right" he said this week. "I suppose you'd call it a bit of a come-down but as long as I'm working and keeping the family all right it's all one to me."
"When I left the Duke after his abdication you would have thought It would have been easy enough for me to get another job. I had about the best reference anybody could have, but not a bit of it."
"Last summer 1 went abroad with some Americans, driving them round the Continent. After being with the Duke I naturally know the Continent well. The job lasted 11 weeks and that's the only driving Job I've had since December 1936."
Source: Townsville Daily Bulletin (QLD) - May. 14, 1938
16 May 1940
Duke of Windsor's Chauffeur Back in Old Position
George Ladbrook, the Duke of Windsor's chauffeur, who worked as a door man when lie left the Duke's service after the abdication, is back at work for his Royal Master.
Mrs. G. Ladbrook, said this week: — 'It was supposed to be a secret that my husband was back with the Duke again — but I can't see there is any harm in telling you now. He has been with the Duke for seven months. When the Duke came to England just after war was declared he sent for my husband. We were not surprised, because my husband always believed that he would drive for the Duke again. When he left the Duke's service things were difficult for him. He thought it would be easy to get a job. He had about the best references anyone could have. But George eventually found himself as a doorman at a London club. It was hard work for him - he had to stand for hours, and in the last war he was wounded in both legs.
"When the Duke saw George again he asked after the children. We have four of them - three of them boys. The Duke is godfather to the boys and gave them a mug each when they were christened. George came home for Christmas. He is very happy to be back at his old job. He was with the Duke for eighteen years before. 'He is not in uniform. His duties are private ones. He drives the Duchess about more than the Duke." It was George Ladbrook who drove the Duchess of Windsor across France before the Duke abdicated. He was invited to their wedding.
Source: Geraldton Guardian and Express (WA) Thursday 16 May 1940