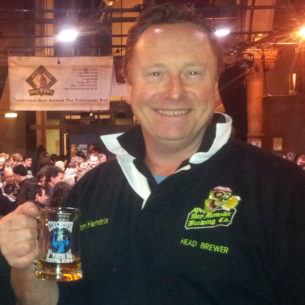 On Wednesday 28th December 2016, my friend Barry Hale and I went along to a tasting session at Georges Brewery in Common Lane, Great Wakering. I was so impressed that it inspired me to write this short heritage article from the future which might be titled "Our very own Georges Brewery - the only successful Brewery in the Southend area". What I saw convinced me that in the future, Wakering could well boast about the growing success of Georges Brewery through the years.
We were greeted by brewer Sam Martyn, a local lad with a passion for home brewing, who joined the business on 4th February 2015. Sam took us through a brief history of the business and showed us in detail the brewing process, with occasional samples of some of their range of ales. I have to compliment Sam on his attention to detail and the amount of time that he dedicated to our questions, whilst we drank. Sam's assistant, Jamie Reeve, who joined the business in June 2016, was with some of the other guests. He had previously worked in the wine department of Waitrose, in Southend.
During our taster session, the proprietor, Mark Mawson, a local man born in Rochford hospital, happened to be out on deliveries. Mark spent £45,000 getting his new business, Georges Brewery, off the ground, in a cattle shed in Common Road, Great Wakering. The brewery is named after Mark's father, who introduced him to real ale when he was drinking Holsten Pils Lager. He cut his teeth on Abbot Ale and starting brewing as a lad.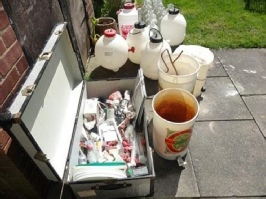 Aged only 18, Mark loved brewing at home despite working full time at the Matchbox Factory in Rochford. He spent four and a half years working there, during which time he became friends with Steve Mann who went into full time brewing after leaving Matchbox. Steve brewed for Bruce's Brewery at several of the Firkin pubs and was the link to Mark's brew kit that he now owns and is indeed from one of the old Firkin brew houses.
After the Matchbox Factory, Mark went into the construction industry where he worked as a bricklayer for 26 years. However, he became disillusioned after being undercut by workers from eastern Europe. In December 2009, he decided to start his own micro-brewery. After months of searching, he came across farmer Pendril Bentall, who wanted a tenant for one of his barns in Great Wakering. The barn, shown below before the construction work, had enough space for him to produce 20 nine-gallon casks of ale in one go.
Mark said his wife Tina supported his venture and his daughters, Colleen and Maddi, helped with painting and decorating the barn. The brewery was fully installed, and on Wednesday 11th May 2010, Mark Mawson's first brew, a pale ale called Freak Show, went on sale at the Station Arms pub in Southminster, near Maldon. Since then, with assistance from his extensive contacts within the micro-brewery world and the licensed trade, Mark has developed the range of beers offered and Georges Brewery is now able to offer up to twelve ales.
Mark opened Southend's first Micropub, named Mawson's, in Southchurch Road on 11th December 2015, as a separate business to promote all real ale including his own from Georges Brewery. I first caught up with Mark at his Micropub and later at his brewery in Wakering. His passion and dedication really shine through and prove that with hard work and determination it is possible to create a successful business locally, putting some shop fronts back into our towns and villages just like one hundred years ago.
A more detailed history of Georges Brewery can be found by visiting The Hop Monster website at: http://www.hopmonster.co.uk/history.