Transcription of Newspaper Article
OLD TED Truss has turned a dangerous well into a beauty spot at a Wakering churchyard.
The well, at St. Mary's the Virgin, Little Wakering Road, was covered in a piece of scrap iron, surrounded by rubble. The vicar, the Rev. Howard Sanderson, was frightened that children could fall down the well.
Now Ted, 69, of Little Wakering Road, has solved all the vicar's problems. He is building a copy of Mary's Well in Nazareth, over the old well.
Ted, a retired bricklayer, said: "Since I retired I have had great fun building things of stone and it keeps me occupied.
"So when Mr. Sanderson came and asked me for some help I was willing to give a hand. He has just returned from the Holy Lands and brought a postcard of Mary's well.
For those wishing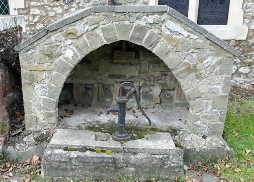 to see the Holy Well, it still stands in St Mary's churchyard, east of the South Porch.
As a matter of interest, over 40 years ago, Ted Truss used to live next door to Olive and Bernard Cooper in Little Wakering.
Apparently Ted also built a three feet high model of St Mary's Church from stone taken from the House of Commons which was bombed during World War Two. The model stood for several years in Ted's front garden.