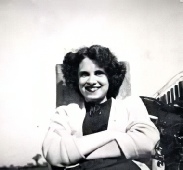 This first photograph shows Sonia Chittock taken at Great Wakering Recreation Ground near the tennis courts during the summer of 1951. At that time Sonia and her family were living on the Great Wakering army camp site in a Nissen Hut with her family. I first met her several years before this as I first knew her brother Arthur, when the Chittock family lived at Jail Farm. Sonia and I spent many happy hours taking ballroom dance lessons at the Barling Youth Centre and Rochford Secondary School.
I joined the Army in 1952, like many others at that time (volunteer or National Service). As my birthday is in March I would have been called up for National Service before the end of March. I volunteered and signed up for 3 years, an extra year but that enabled me to take my final Carpentry exams at Southend Technical College. By signing on for the extra year, I was able to join the Royal Engineers as a qualified Carpenter. A soldier first of course.
After initial training at various UK locations which lasted about six months, I was posted to an Engineering Stores depot in the Midlands. One morning in early February 1953, I was called to the main office and handed a Telegram, that had been sent from my Mum (no available phones at that time). It read "Sonia safe but homeless" it was some time before I co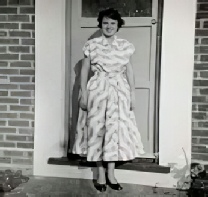 uld get leave. Later that day was I able to find the reason for the telegram, when looking at a Newspaper and seeing pictures of the Nissen Huts under several feet of Flood Water.
The photograph on the right shows Sonia at her new family home in Twyford Avenue, Great Wakering, after the floods of 1953. In the summer of 1953, I was posted to Korea. We sailed from Liverpool and it took six weeks, after stopping at Port Said (no shore leave), Aden, Colombo, Singapore and Hong Kong (approximately 8 hours ashore at each), to arrive in Japan where we were kitted out before sailing to Pusan in Korea. On the journey to Japan we met a ship transporting troops, that had been taken prisoner during the war, back home. Both ships slowed and we gave each other three cheers across the ocean. In Korea, the fighting war was over however but the environmental war with water, land and terrain was still in progress. What a mess! It was just like camping but a hundred times worse.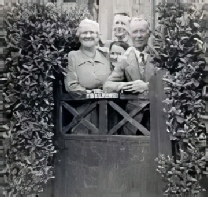 This photograph on the left is my last look at home before I left. Taken at Chalfont in Little Wakering Road. My Mum, Dad, brother John and sister Lily just visible. While I was away, I wrote to Sonia on most days, sort of a diary and posted every so often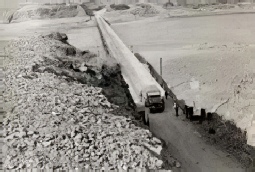 .
The photograph on the right shows Teal bridge, crossing the River Imgin in Korea, one of four Main Supply Routes used for military equipment and personnel movement between North and South Korea. The Americans had just finished building it before I got to Korea. The previously built high-level bridge had been washed away when the seasonal Imgin floods occurred. This bridge is submersible and at times of seasonal flooding is covered by 10 ft of water. One of my jobs was to prepare the bridge for demolition, should it be required.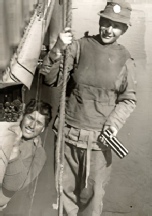 I am on the right in this picture. We only had to serve one winter in Korea, so I left at the end of summer 1954. I spent some time in Egypt before flying to Cyprus where I stayed for Christmas 1954 and until I was flown home before demob in May 1955. I was unable to inform Sonia when I was flying home because I didn't know. When I eventually landed at Farnborough airport, I then travelled by train to London. Once in London I phoned Sonia's boss (Sonia worked in London) and he permitted her to meet me at Fenchurch Street Train Station that same afternoon. The first time we had seen or spoken to each other for nearly two years, (no available phones at that time).
After a short leave I had to go back to get demobbed where I could keep my hat badge and field knife, everything else belonging to the army was expected back. In return I was given a new suit, shirt and a pair of shoes. I was able to return working at the same company I left before I went into the army. We were building council houses for Southend Council at Kent Elms corner.
I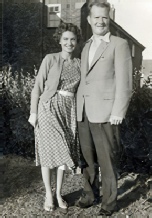 t was not long before I asked Sonia's Dad if we could get engaged, he responded with 'I will let Sonia know tomorrow'. The answer was 'Yes', so Sonia and I went to buy an engagement ring, this picture shows us just after our engagement. We spent the next two years working, playing and saving to buy a Bungalow. Early in 1957 we agreed with an Estate Agent to buy, an off the drawing board, yet to be built Bungalow in Ashingdon due for completion before December 1957. We made all the wedding arrangements for January 18th 1958.
Everything was fine with the wedding, but the Bungalow was not finally completed until February 1958. Mum and Dad Duffy allowed us to live with them at 'Chalfont'. We had managed to acquire much second-hand furniture; our dear friend Joe Grant had let us store it in his factory at Wickford. The floor covering requirements had been measured before we moved in. When we eventually obtained the keys from the Estate Agents it didn't take long to get things organised inside. I became quite friendly with our bungalow builders and completed quite a lot of work for them in later years.
Our first son was born in December of the year we moved into the bungalow. At this time, I was still working for the same building firm based in Southend. By the time Sonia had our next baby boy I had become self-employed and was working at various locations all over Essex.
I was working on some new build properties in Stanford-le-hope, one of which was a chalet type bungalow with three bedrooms. Sonia came with me one day and liked the property and local area, so we bought the property. We had no problem selling our bungalow in Ashingdon. All property was in great demand that that time and we had to make the decision quickly. As the new property was not yet fully completed, we had to wait once again before eventually moving in 1961. In 1963 our third son arrived, then in early April 1964 our fourth child was home delivered in our front room. I was in the next room with Sonia's sister Jenny, Christopher, Stephen and Andrew, our three sons, all waiting patiently. Helen was born and everything was wonderful.
The photograph on the right is the only photo I have of Sonia with all our family.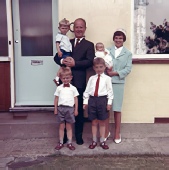 Early in August our family went on holiday to Somerset. On the way home, 2 weeks later, Sonia asked me to stop the car as she didn't feel well. After stopping the car, she was sick by the side of the road. After a while Sonia said she was feeling a bit better, so we continued home. On Sunday, the next day, Sonia said she was feeling a bit better apart from a headache. Sonia went to the Doctors on Monday the Doctor gave her some pills and told her to return the next week if she wasn't feeling better. On Wednesday morning as usual, Sonia kissed me goodbye at the back door as I left for work. Sonia never spoke to me knowingly again.
When I got home that evening Eileen, our very good neighbour, was waiting at the door to tell me that she had sent for the Doctor. Eileen informed me Sonia had asked her to look after the children as she was going to bed. The Doctor came later that evening, sent for an ambulance and Sonia never came home again. Sonia was taken to Orsett hospital and then transferred to the London Hospital Annex in Brentwood, where they operated to remove a brain tumour. Post operation, Sonia was close to death and in intensive care for about five weeks and never became knowingly conscious again. After about 5 months, while I was working in Southend, a policeman knocked at the door and I was told that Sonia had died earlier that day, 17 January 1965. The 18 January would have been our 7th wedding anniversary, later that year on the 9 April, Sonia would have been 28 years old.
After five years, which I don't care to recall, I was working on a Bungalow in Eastwood and needed permission from next door to raise the chimney height to comply with Fire Regulations. We were informed, a lady lived next door on her own but spent most of her time in London where her sister was having a baby. The Lady left a key, so I was able to get in to block the chimney flue and cover furniture with dust sheets. When the chimney work was finished, I again entered the property to remove the dust sheets, unblock the chimney flue and clear up. During the works, which lasted a few weeks, I only saw the lady on two occasions and we never spoke.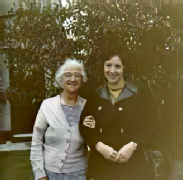 When the works were all finished, I wrote to the lady, thanking her for letting us go into her house unattended. I also asked if I could take her out to dinner as a thank you. After about five weeks Rita agreed to come to dinner with me, at the Lighthouse restaurant in Benfleet.
There was a postal strike at that time and Rita didn't have a phone at home, that and the need of a child minder for me, was the cause of the delay.
Rita and I have been married for 48 years now.
This last photograph shows Rita and my Mum, the first time they met around 50 years ago.