I am sure many of us have wondered what happened to some of our friends from our early days and whether they have had a happy and successful life in whatever they chose to do. One such person that came to my mind was Robin Trower. This article was inspired by an article in the local Evening Newspaper, dated 21 June 2017 by Christine Sexton. So, I contacted some of my friends including Chris and Sylvia Stock, David Lee and Mike Burles, to see if they could help. My search of the internet revealed that Robin was born on 9th March 1945 in Catford, South East London and grew up in Southend on Sea and at least some of that time in Alexandra Road, Great Wakering.
Pictured above (left to right) Mick Brownlee, Gary Brooker, Robin Trower and Chris Copping
Chris Stock Reflects
"About Robin Trower, well I have a photo of him and me (pictured below) as kids when we lived in Alexandra Road. We played in the street and fields but I never played guitar with him (unfortunately for me because it may have led to greater things!) I rather think he took it up seriously after he left the area (although Keith Price mentioned him walking down the road with a guitar case in his talk at GWPS). We (Johnny Glen & I) frequented Shades Club where we were members (I still have the badge off my Parka jacket somewhere). The Paramounts played there, usually a Sunday night if they were touring, as well as other R&B bands like the Orioles. Rob had moved away from Alexandra Road by that time. Fender Guitars now sell a 'signature' Robin Trower model Stratocaster (pictured earlier), that's fame for you!
Regarding the article in the Evening Echo newspaper (shown at end of article), I had heard that Mick Brownlee had died through John Bobin (bass player in the group 'Da Management'). John played in a couple of bands with Mick and knew him well. Mick may have stood in with The Avengers as we did have stand-in drummers from time to time but I didn't really know him."
Robin Trower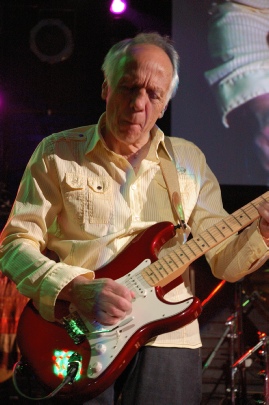 Robin Trower is pictured left (courtesy of Carl Lender under Creative Commons License) on 18 October 2009 at the Culture Room, 3045 N Federal Hwy, Fort Lauderdale, Florida 33306. In 1962, he formed a Group called "The Paramounts" with his friend Gary Brooker a Westcliff High School pupil. Due to their young age, they performed initially in Robin's father's cafe which became the Shades Night Club along Southend seafront and in 1964, they had a hit with "Poison Ivy". The Group disbanded in 1966 to pursue individual projects.
Robin then formed a Group called "The Jam" and later joined Brooker's new band "Procol Harum" who had a hit with "A Whiter Shade of Pale" in 1967.
This progressive and Psychedelic rock band, named after a friend's pet cat, provided Robin with the musical outlet he had been looking for in his formative years. Procul Harum saw instant success with their Barouque style debut single, "A Whiter Shade of Pale". The song was a commercial success, topping charts and selling millions of copies worldwide and was seen by many as the theme song to 1967's summer of love.
Robin continued his work with Procul Harum for a number of years until 1971, touring and playing notable shows, such as the Isle of Wight festival and an opening slot on a Jimi Hendrix tour. After releasing five albums with the band, he left to start his own project, "The Robin Trower Band" in 1973. With a new band came a new sound, and many of the band's early albums were recognised for their Hendrix influenced style, most notably 1974's "Bridge of Sighs". Robin performed this track in 1974 for UK Television and can be viewed on YouTube by visiting: https://www.youtube.com/watch?v=0tLsFsGxLmE
The Robin Trower Band has released 19 studio albums since 1973, plus collaborative albums with the likes of Bryan Ferry and Jack Bruce. The band's latest effort was 2013's "Roots and Branches". All of Robin's music releases are listed on the following 'Discogs' website: https://www.discogs.com/artist/234181-Robin-Trower
Robin is considered by many as an icon in the guitar world, and has influenced many blues and rock 'n' roll fans with his signature bends and solos. Robin himself cites James Brown's ability to merge the two genres as a major influence on him.
Robin's career has continued to flourish over the years as a musician, vocalist, songwriter and bandleader and is due on tour to various locations in Germany and the Netherlands from 18 September 2017. His final Concert is to be performed here in the UK on Wednesday 29 November 2017 at Islington Assembly Hall in London. Details of all of his concerts this year can be found on his official website: https://www.trowerpower.com/tours.asp
Robin Trower's Official Website
Wikipedia: https://en.wikipedia.org/wiki/Robin_Trower
Wikipedia - The Paramounts: https://en.wikipedia.org/wiki/The_Paramounts
David Lee Reflects
There is not a lot I can add regarding knowing Robin Trower, other than memories of watching the Paramounts in the early to mid-sixties at the Shades coffee bar and the Cricketers Pub. Chris Stock who attended our last reunion in 2016 also lived in Alexandra Road, Great Wakering during this period and was a guitarist to another popular Southend boy rock band.
Mike Burles Reflects
My 1964 Membership Card of 'The Shades Cellar Club' (below) confirms the address of the club as 161 Eastern Esplanade, Thorpe Bay.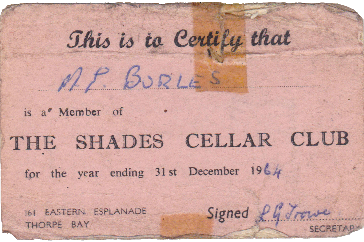 There is a great display of some of the local bands on the seawall in the Concord Beach area on Canvey Island and I show below some of the iPhone photo's that I have taken along with some of my 1960's memorabilia, having trolled through my loft.
The three photographs, directly below, show the bands 'Force Five', 'Dr Feelgood' and 'Eddie and the Hot Rods'. I am sorry but there is no mention of the 'Paramounts' or 'Oriole' although Force Five was often at Half Way House or perhaps the Elms.
I have also included below them, the reminders of the Coffee Bars, and Pubs and Clubs which were around in the the early 1960's. I spent quite some time in my Loft.
Before I finish, the name 'Micky Jupp', also of the Shades era, springs to mind, so take a look at this: Mickey Jupp
David Freeman Reflects
Mick Jupp played at the Cricketers with the Orials, and I understand that he still makes the occasional appearance with his band. (Yes, I had forgotten about him).
Maurice, Lulu's brother, has a website called "Chelmsford Rocks", a music history website featuring memorabilia from Chelmsford acts and artists that have performed in the city. The City that Rocks from the 60's including Jimmy Hendrix, The Who, Pink Floyd and the 70s with The Clash, The Undertones, and Dr Feelgood, to name just a few. The site also including bands from the 90s up to 2010, which you may like to look at: Chelmsford Rocks
As you will remember we did pop over the Corn Exchange. Maurice is interviewed on Radio Essex from time to time about local Essex groups. I have seen both Dr Feelgood and Eddie and the Hot Rods. The original Feelgood in Leeds and Canvey and Hot Rods in Canvey played Redhill last Summer.
Footnotes by Richard Kirton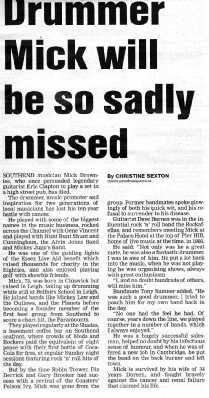 Evening Echo Article - 'Drummer Mick will be so sadly missed' by Christine Sexton
I would like to thank Christine Sexton and the Evening Echo for running the story on 21 June 2017, titled 'Drummer Mick will be so sadly missed'. It has aroused a lot of interest and debate amongst members of the Barling & Wakering Villages Group.
Please support our local newspaper, the 'Evening Echo', by reading the original article at the following link: Drummer_Mick_will_be_so_sadly_missed
Information about the Robin Trower Signature Stratocaster® (courtesy of Fender Custom Shop)
Legendary solo artist and Procol Harum guitarist Robin Trower helped define an era of guitar-riff rock with the first four notes of 1974's "Bridge of Sighs." Trower's signature Stratocaster® guitar features custom pickups created by Trower and Fender master builder Todd Krause, with a reverse wound/reverse polarity middle pickup (including a humbucking option in the second and fourth positions). Other features include an alder body, custom C-shaped maple neck with abalone dot position inlays and narrow spacing, large '70s-style headstock with '70s-style decal, synchronized tremolo bridge, bullet truss rod adjustment nut and four-bolt neck plate. As of the date of this article the retail price of this guitar is £2907.
Mickey Jupp Quotation
In 1984, Mickey Jupp is quoted as saying "The Paramounts were the best R&B band I have seen and ever will see!. They were shit hot! They were magic! I used to go to the Shades Club every time they played. I wouldn't mind going back twenty years to go down there again!