Now here is a photograph that dates back to circa 1920. It was handed to me by Shirley (Lubbock) Gibson at our Reunion at the Old Wakering School, in October 2016. We had previously spoken about the families who used to live on Trumpions Farm and my desire to find out more about them. This article highlights just such a family, the head of whom was Albert William Lubbock who was born in Neatishead on the western edge of the Norfolk Broads in 1880. Albert met his wife Edith during a walk along 'The Broadway' at Stratford. She was employed as a housemaid in nearby Snaresbrook and they married in Wanstead in 1907.
Albert and Edith with their three children, moved to Trumpions Cottage, at Trumpions Farm, Mucking Hall Road, Barling in 1915. Albert started work that same year, as an Engine Driver at the Pumping Station for the Southend Water Company which was situated in the lane running north from Mucking Hall Road at the west side of Bolts Farm up to the river bank. Whilst at Trumpions cottage, Albert and Edith had a further three children, making a total of six and in order of birth they were:
1. Albert William Lubbock, who was born at Edmonton in 1907, joined the Royal Navy in 1923. A Memorial Inscription appears in the book 'Royal Navy Roll of Honour - Between the Wars, 1918-1939' by Don Kindell which reads 'LUBBOCK, Albert W, Able Seaman, J109370, Whirlwind, 30 August 1927'. He had a fatal accident on his motorbike and hit a tree in Hall Road, Rochford.
2. Edith Madge Lubbock was born at Leytonsone in 1911 and married James Whale in 1933.
3. Sybil Maud Lubbock was born at Leytonstone in 1913 and married Clifford Stock in 1939.
4. Edward Charles Lubbock was born at Trumpions Cottage in Barling on 4 July 1915 and married Sylvia Rayner in 1937.
5. Laurence Arthur Lubbock was born at Trumpions Cottage in 1918 and married Ivy Lily Snow in 1942.
6. Winifred Gertrude Lubbock was born at Trumpions Cottage in 1920 and married Douglas Clark. They later emigrated to Australia.
S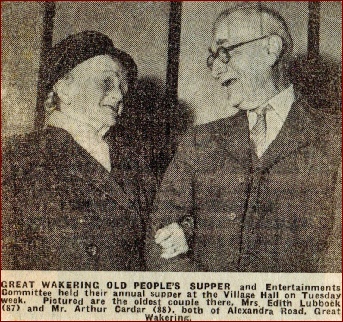 hirley and Sylvia's Grandmother, Edith (Harris) Lubbock is pictured right at an Annual Supper in Wakering in 1962, being the oldest lady there at 87 years old.
Edith is also pictured holding her son Laurence, in the family photograph above, which was taken circa 1920. Sadly, Edith died on 20 November 1969.
Albert Lubbock is believed to be the founder of the Old Age Pensioner's Club in Great Wakering and he is pictured again below with his wife Edith and family in August 1966 at his Diamond (60th) Wedding Anniversary.
Albert recorded a cassette tape in 1973 at the age of 93 years, from which the family created a transcript and this enabled the production of this article which serves as a brief biography of his life. Albert's actual words from the tape are italicized.
After schooling, Albert as a boy, moved to Norwich to work in the family builders firm run by his grandfather, William Roshier, who had re-married. Albert fell out with his Grandfather's new wife and after a short while returned to Neatishead. He managed to secure a job as a fireman with the Great Eastern Railway, but by 1901 the census listed him as boarding at West Ham with his brother Arthur, who was also a fireman.
Albert was colour blind and in his own words "If you were colour blind on the railway you couldn't be made a permanent driver only a temporary one." This meant that there was not much chance of him getting a permanent driver's job and he "didn't like the job much, in fact he hated it." He had failed the test a couple of times and faced life as a permanent labourer. "The money for train driving was nothing much. lf you were driving a 'drawing train' you only got 2 pounds ten shillings for the week."
"A member of his 'gang' had just got an 'engine' job at Southend (Prittlewell), operating steam engines for the water pumps." Albert was told by his friend that Southend Water Company were building a station (water abstraction plant) at Barling. This would have been around 1915. Conscription for WW1 was introduced in March 1916 and it is assumed that jobs on railways or waterworks were considered to be 'reserved occupations'. [The Photographs below were taken in October 2016 and show all that remains of the Pumping Station which closed in 1924].
The secretary and manager of Southend Water Company was Mr. C. S. Bilham and Albert's friend put a word in with Mr. Bilham who "put a note on his book." He subsequently went to see Mr. Bilham and was told that he was a "bit early, there was no 'engine jobs' at the time and he needed to wait but in the mean-time the 'Utilities' needed people on the trams paying 28 shillings a week." Albert worked for short time as collector (uniform provided) on the trams. After a couple of weeks Mr Bilham sent his Foreman out to find Albert to tell him that he only had to give one day's notice to leave the trams and Mr Bilham then gave him a week's work at Barling. He was employed to clean up the place, polish the newly installed engines and stairways and white enamel the stone pathways between the engines, before he started operating the Barling works. It was 1915 and he was in a "better job and now earning 38 shillings a week."
Albert was living at Southchurch at this time but Mr Bilham asked him if he could find a place at Barling to move to (for security of the station). There was an "old cottage down the lane that had been 'To Let' for some time." His wife Edith went down to see the cottage and although it was in a state, she said "oh well you can do something to it can't you?"
There was plenty of timber at the yard left over from the building of the pumping station which was part timber/part brick construction and the foreman used some of this wood to repair the old cottage and "he made a decent job of it too, it was a clapboard Essex cottage."
Albert lost his job in 1924 because "the pumping station water supply was affected by sewage sludge spread on the nearby fields and the waterworks was closed down." He was "on the dole" and tried all over to get another job, cycling around the district as far as Dagenham. He had a stroke of luck when he saw a crane driver friend who worked at the brickfields in Wakering but was about to leave his job on Monday. Even though he had no experience, he got the job and worked at the brickfield for five years loading the lorries that "took about 500 bricks at a time."
Around 1929 by chance, he "saw a 'Dr Griffiths' [who he previously knew] who was building a new sewage works and put his name down for a job with the Council as a sewage pump engineer. Despite being one of 34 applicants and not knowing anything about sewage pumps." He got the job and later "found that the Council Surveyor was Mr Bilham who had previously employed him."
At the beginning of the tape Albert talked about his boyhood ambition to buy his own house because his parents had their own house in Neatishead. In order to achieve this, he "saved £100 in a book and so much a week and took a loan/mortgage for another £100 to buy his house." He probably bought the house in Alexandra Road which he happened to be living in later on. Albert died in 1977 at the remarkable age of 97 years old.
Since 2008, Trumpions Farm estate has been used as the Barling Magna Wildlife Reserve. In 1881, 21 people were living on this farm estate which lies immediately south of the River Roach. Albert Lubbock and his family lived there from 1915 to 1924, amongst a tightly knit community which included the farming families from Bolts Farm and Ropers Farm. Back then there would probably have been easy access to Cutlers Pond and the footpath running along the river bank from Rochford to Great Wakering, giving children a wonderful playground during their early years. Also, Albert would have had a very short walk to his workplace at the water works.
Our original website shows four photographs depicting interviews with local residents, soil samples being taken and protesters on the march, during the Barling Sewage Farm Protest Rally in 1972. They can be viewed at:
http://www.barlingwakeringvillages.co.uk/barling/BarlingSewageFarmProtest1972.htm
Ropers Farm in Barling was used by Southend Corporation, at the time, to dispose of sewage sludge. The fields were being worked by prisoners from Chelmsford and a dispute arose when crops on the farm failed. A lady who lived close by to the farm had traces of poisonous metals in her blood. Barling Conservation Group was formed and soil samples were taken from the farm. In May 1972 thirty members and supporters of the Group held a protest rally outside the farm. This was reported in the local press and shown on television. Official samples of the soil and sludge were taken and found to be contaminated with toxic metals. It was thought that industrial waste entering the sewers was responsible. As a direct result of the Barling protests legislation was passed nationwide so that industrial waste was treated separately and not allowed into the domestic sewers.
There are two other articles on the website which cover the Trumpions Farm estate:
'Little Barling Parish' can be viewed by left-clicking on:
http://www.barlingwakeringvillages.co.uk/plus/little_barling_parish.html
'Barling Magna Wildlife Reserve' can be viewed by left-clicking on:
http://www.barlingwakeringvillages.co.uk/plus/barling_magna_wildlife_reserve.html