I attended Barling School, then Great Wakering Secondary, leaving in 1965 at 15.
In the Barling school photo above, I am in the middle of the front row in Miss Riley's class.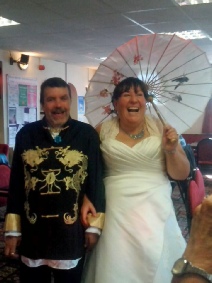 The job centre got me a job in Kimberly Road as a driver's mate at the "box factory" as it was known locally, collecting boxes. I worked with a man called "Tiny" who was 6' tall! Sometimes, twice a week we would drive to London and by hand would load up flattened boxes, returning to Little Wakering via Garons Bakery in Sutton Road, Southend, to pick up more boxes. They were taken back to the factory for compressing into bales and then a lorry used to come and take them away. I seem to recall my wages being about £9.00 per week then; wouldn't go far nowadays!
Working at the box factory was just one of my early jobs. I have always worked as a factory hand in various places, but was fond of the old box factory as we used to go out and about collecting cardboard boxes for recycling, so I was not indoors all the time like most factory jobs.
I got married on 6th June 2014, late in life I know but Anne has been my rock throughout my illness and I love her dearly.
The wedding photo is Anne and I at Great Wakering British Legion where we had our reception and I have been a member since my 20s.
Footnote with photographs by Colin's sister-in-law, Brenda Abrey
Their mother Kathleen's mother was a Bailey, Emily, born in Kingsmead Cottages to James Bailey 1861 - 1898) from Great Wakering and Jessie (1863 - 1929) nee Springett from Barling. Jessie, aged 18 was a cook at Little Wakering vicarage before marriage. They had four children; Emily (1887), Albert (1889), Edith (1891) and Charles (1896).
James was a brickmaker then an agricultural labourer, when he died his brother John moved into the family home at 2 Kingsmead to help raise the family.
Jessie's sister Harriet also married a John Bailey from Runwell, Wickford and they moved in next doors to James and Jessie at Kingsmead.
Our Baileys were in Great Wakering in and before 1810 when William (1810) was born. He married Phoebe Cause (1816) of Great Wakering. They had 8 children, James being the youngest.
My husband Roger's father was Reginald John Abrey b: 1915 at 4 Bournes Green Cottages to James William Abrey b:1878 Rochford d: 18-8-1917 Ypres and Miriam Hannah, nee Root b:1882 Barling d:1941 Runwell Emergency Hospital.
Reginald John was the youngest child of seven and grew up at Bournes Green.
James William Abrey is buried in Brandhoek New Cemetery No.3 in Belgium. He enlisted in the Royal Irish Rifles and died during a shell attack, while moving artillery up the road for the 3rd offensive at Ypres.
Miriam is buried in St. Marys Churchyard, North Shoebury. Their children were Emily Maria-1905, Eva Maria-1906, Bertha Elizabeth-1907, Vera Dorothy-1909, Elsie M.-1911, Cecil James-1913 and Reginald, known as John.
Cecil married Dorothy Lamb from Rochford and had two children. He enlisted WWII in the Royal Norfolk Regiment 5th Battalion and died 12-6-1943 in Burma as a Japanese P.O.W. . His battalion was captured after the fall of Singapore and imprisoned at Changi by February 1942 and from there sent to Burma to work on the infamous railway project, he is buried in Kanchanaburi Cemetary, Thailand
James William's parents were James Abrey b:1854 Barling d:1919 Rochford and Maria Elizabeth nee Bridge b:1857 Hawkwell d:1903 Rochford. Their children were Emily-1877, James-1878, Annie-1881, William John-1884, Arthur-1888, Frederick George-1889 and Walter-1891, all born Rochford. On the 1881 census the family are shown as living at the Barracks, West Street, Rochford.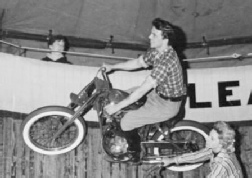 Another interesting Abrey is Richard Abrey, also known as the Black Baron,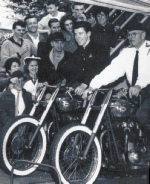 a wall of death rider, dressed in black, at the Kursaal with Tornado Smith in the 1960s. The Telegraph newspaper did an article on Richard's role with the Wall of Death in 2004 which can be viewed here. The caption reads "wearing his lucky boots".
Tornado Smith always wore a dark beret, white shirt and dark necktie. At 17 Rick was one of the youngest riders and was the son of Dorothy Abrey, so was Roger's cousin. An article appeared in the Evening Echo on Wednesday 17th January 2007
which can be seen here. Rick's career lasted until the Sixties. In 2007, aged 63, he was found dead at his home in Westcliff.
Roger and I have lived in the village since September 1970 and have seen it develop from a small rural area to quite a large and somewhat impersonal place. I much preferred the smaller closer knit community it used to be, but I guess that's progress for you!
The house we live in was part of the council's building scheme after the war and Roger's father was a foreman working for Rochford Council on this estate, so in a roundabout way even our home has family connections. We have raised our five children here and they still call it home and visit regularly.
Roger's father served in the Home Guard during the war and was based at Stranrae Submarine Base in Scotland.
I am now involved in finding out about my father's history as until five years ago he was a closed book. He was from New Zealand and rarely talked of it. He died in 1973 but at last I had a breakthrough via Wikitree and am now going to Auckland in November to meet my older siblings and see my Maori heritage for myself...all very exciting! I have traced my mother's heritage back to 1452 in Kent with Flemish weavers and all over Cornwall, Devon and Norfolk, though they all appeared to converge on London and the core of her family were from Greenwich and Silvertown.
Footnote by Peter Griffiths
Maureen (Abrey) Pett, the sister of Colin Abrey, is a regular at our Castle sessions. The Alps and Abrey families were neighbours in the 1940s. It appears that there were two box factories in the village with the Kimberley Road one obviously being a very different outfit from the one that used to be on Little Wakering Road, between Little Wakering Church and the bowling green. I suspect that the latter project, started in the late 1930s by Albert Burgess, the granddad of Les Gilkes, did not survive the War, though the building became a cosmetics place thereafter.
Please note that there is an article by Vi Sivell in 'Small Beginnings 16' that mentions the box factory in Little Wakering Road.
Footnote by Laurie Street
Box Factory in Little Wakering Road - I remember that the box factory in Little Wakering Road was next to a pair of cottages belonging to Bentall's. Desser Groves used to live there, his dad worked for Bentall. There was a big high building with a corrugated tin roof with no sides. This was owned by HOLLARD'S Waste Paper. They had one or two lorries and used to go round all the shops and other businesses and collect waste paper and cardboard, bring it back here and use a baler to compress it and make into big heavy baler. It was mostly family run, there were several boys, all big strong fellows who used to throw these big bales high up onto the top of the stack.
It was an open site. Sometimes other things got caught up with the card and used to be left lying about for us lads to collect. I think the war years had something to do with its demise as there wasn't much cardboard about. I think a building was erected which was used for other industries. The site ended that phase and now has 2 chalets there. My mate Popeye lives in one, a real character.
Laurie's recollection confirms what Les Gilkes said: "Albert Burgess's venture did not survive the War". Les thinks that this may be because a lot of his family, including Grandfather Albert, went to Wales.The cottages that Laurie mentions at the start are still there, a bit closer to the Castle and just before Brays Cottage.
The extract below from the OS Six Inch Map, series 1888-1913, can be magnified by hovering over the map. The box factory in Little Wakering Road was between St Mary's Church and Parsonage Farm on the west side of the road and the box factory in Kimberley Road was between Dam Farm and Workhouse Yard.
Box Factory in Kimberley Road - I also remember well, the box factory in Kimberley Road. It was active about 1955 and was in the barn of the smallholding previously owned by the Clark Family, the parents of Mabel, Charles and David. They were all very religious, Charles was a Reverend, Mabel a nurse, David also, they used to go to the Methodists I think. David was was very friendly with my sister Jean.
The man who ran this business used to buy up second hand cardboard boxes and sort them out, He also used to buy up second hand Hessian sacks and sort them out. When I was cockle shell collector we used to buy our sacks from him. I recall very clearly we used one CWT sacks which cost us one shilling each and we filled them with crushed cockle shell which were fed to chickens to aid their digestion.
I can't remember the mans name but he also dealt as a corn chandler. He used to buy some of our shell. It was during this time the dreaded east coast floods struck.
Footnote by Les Gilkes
My granddad, Albert 'Bert' Burgess, set up the box factory in Little Wakering Road to create employment for his three daughters: Peggy, Joyce and Junita aka Nin. Joyce was Les's mum.
Footnote by Lynne Askham
I remember the Abrey family well. They were all at Barling school with me in the 50s - Vic was older than me, Roger sat behind me in Mr Learmond's class next to Roger Snow, Colin and Maureen are younger (I think Maureen was in my brother Steve's class).
It was great to see Vic at one of the reunions some years ago and find that he hadn't changed a bit. Still a big tease but good fun.