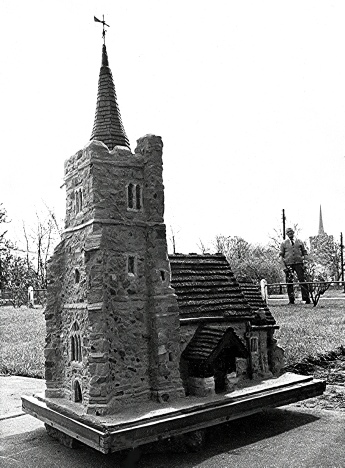 Sadly Ted Truss is no longer with us, but his skills as a builder and bricklayer can still be appreciated today. On 4th April 1971, Ted finished building a three feet high model of St. Mary's Church, from stone taken from the House of Commons, which was bombed during World War Two. He shaped an exact stone replica of the church and as you can see, has created a small marvel. The roof lifts off to display the interior details including the font, pulpit, altar and rows of pews, all in exactly the same position as those in the 12th century church.
On 11th September 1980, t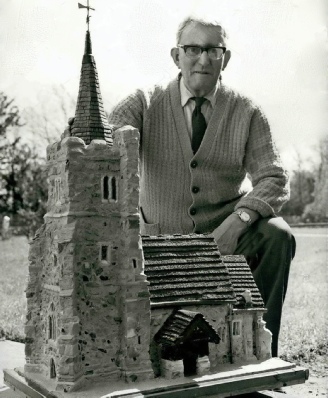 wo photographs were presented to Roy Deeks' son Ben Deeks, by Olive and Ted Truss. The text on reverse of the photograph to the left reads "To Benjamin with love from Auntie Olive & Uncle Ted".
The model stood for several years in Ted's front garden as shown in the photograph on the left. His model is in the foreground with Ted Truss in the middle ground and the real St. Mary's Church in the background.
The photograph to the right shows a proud Ted Truss, kneeling behind his model. As a matter of interest, over 40 years ago, Ted used to live next door to where Olive and Bernard Cooper live today, in Little Wakering.
The whereabouts of the Church Model is unknown although the same, but watermarked copy of the photograph can also be seen on a website called Alamy. The site offers "115 million stock images, vectors and videos" and is well worth a look. Perhaps one of our readers knows where the model is now.
Ted also built a copy of Mary's Well in Nazareth over the dangerous old well in St Mary's churchyard in Little Wakering churchyard and it still stands today, east of the South Porch. My article covering this can be seen here. If it were not for a newspaper cutting highlighting this other achievement of Ted Truss, this article about the church model would not have been possible. One thing led to another and I would like to thank Lesley Marshall for lending the newspaper cutting to Dawn Bailey.
Addendum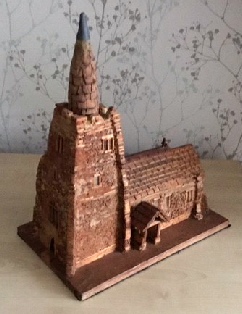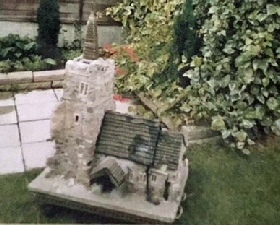 I am pleased to say that on 11th January 2018, Lynn Butler [née Watson] sent me an email message which reads as follows:
'I was interested to see your recent articles on Old Ted. Old Ted was my maternal grandfather, my mother is Joy Truss who married Reg Watson, I am pleased to say they are both very well. Ted sadly passed away in 1989 Aged 87.
The model church resided in our garden for many years until sadly the elements got the better of it. I do however still have a smaller wooden model that Ted made before the stone version, pictures of both attached.'
I wish to thank Lynn for submitting these two photographs to support our article. Ted's skills obviously extended to carpentry since his wooden model looks extremely well made.