Barling 'Old' School VE Day Flag Flies Again
Article by Richard Kirton - 11th May 2020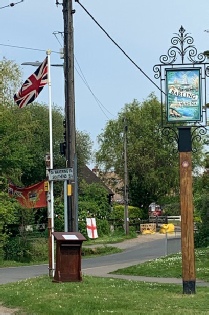 On Friday 8th May 2020, to commemorate the 75th Anniversary of VE Day, local farmers, Bill and John Pavelin, temporarily erected an aluminium Flagpole at Weir Pond corner. The Flagpole, pictured left, was flying the actual Union Jack Flag which flew above the Old Barling School to celebrate the end of World War Two in 1945.
Pendril Bentall's Aunt, Eve Bentall, was Chairman of the School Governors when the Old Barling School was still in use and Bill was one of her School Governors when the old Barling School closed.
The 'Barling Board School' as it was originally called, was opened on 9th September 1878. In 1903 the school became known as Barling Council School, when responsibility for Board Schools passed to the Education Committee of Essex County Council. During the Second World War the school received evacuees from Chingford and a bomb fell on school premises in 1942 causing some damage. In 1946 the school was renamed 'Barling Magna Council School'.
In 1973, new school premises were completed in Little Wakering Road, close to Weir Pond corner. On 1st February 2017, the school was renamed 'Barling Magna Primary Academy' joining 'Great Wakering Primary Academy' as one of the two schools in Brickfields Multi Academy Trust. Governance is now undertaken by a Board of Trustees whose role is similar to that of Governors.
E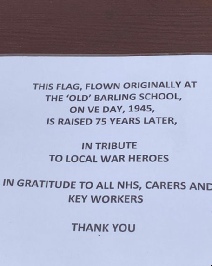 ve and Bill found the cotton Union Jack Flag in a skip at the old Barling School and Bill decided to take it home and wash it. He has kept the flag all this time and it is in good condition and measures approximately 3ft x 2ft. They stood a lectern close to the flagpole and posted the following tribute, shown in the picture to the right.
The Flagpole was there just for the day and local Barling people were able to see and photograph it, but only if their daily walks took them past the Weir Pond. This was to comply with the lockdown distancing guidelines imposed by the UK Government because of the Coronavirus Covid-19 Pandemic.
For those reading this in the future, it is important to note that we are currently in a Coronavirus Covid-19 World-wide Pandemic which spread to the UK in late January 2020. The UK has been in lockdown since 23 March in an unprecedented step to attempt to limit the spread of this devastating virus. The distancing rules and the instruction to stay at home has meant that most village celebrations to commemorate the 75th Anniversary of VE-Day had to be cancelled.
On behalf of all Barling Parishioners, I would like to thank local farmers, Bill and John Pavelin, for their wonderful tribute to our local World War Two heroes, including those listed below who paid the ultimate sacrifice:
William A. COLLINS
Lawrence KINSELLA
Leslie E. PLEDGER
Stanley W. J. TAYLOR
Actual Union Jack Flag which flew above the Old Barling School to celebrate the end of World War Two in 1945