Article compiled by Richard Kirton
Original Magazine made available by Rita Stow. Magazine scanned by Dave Lee.
01 November 2016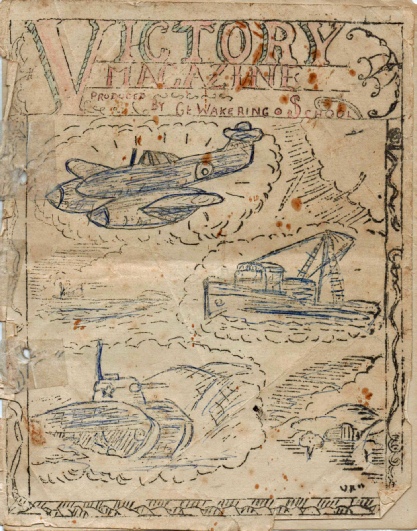 The Victory Magazine commemorated the Peace Celebrations of June 1946 following the Allied Victory which concluded World War II which lasted nearly six years.
The original magazine is now 70 years old and is in a frail condition. It was produced by the staff of Great Wakering School by merely replicating the interesting essays and sketches which were written and created by children as young as 9 years of age.
The magazine belonged to the late John Stow who was a pupil of the school in 1946, and his wife Rita has now kindly made it available for all to read and asked if the document could be stored in a suitable archive.
The magazine's editor, Mr F. J. Scott, was Dave Lee's former teacher and Mr Chandler was his head master.
With this in mind, Dave made contact with Heather White, Office Manager of the school, asking if she could and would be willing to provide suitable archive storage space for the original magazine (approx. size 6" x 8").
The individual pages of the magazine can be seen by 'left clicking' each image below, or alternatively, a PDF copy of the entire magazine can be downloaded by 'left clicking' the image to the right. Many articles about the Dornier appear on the web.