There is some evidence to suggest that in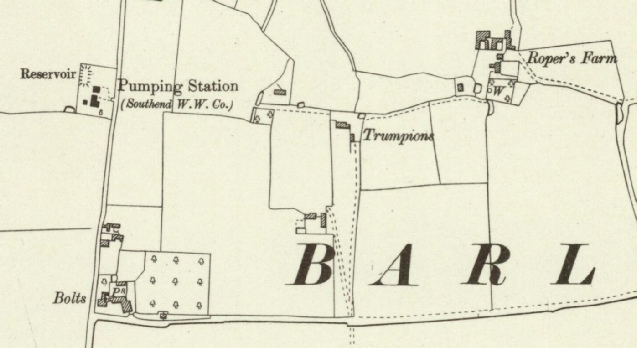 the 15th century, there existed the parish of Little Barling or as it might have been referred to, Barling Parva.
Landowners back then were free to erect and demolish whatever buildings they desired and even more recently settlements such as Jail House Farm and the open prison were demolished without permission.
I refer to an excellent report created in 2011 by Professor Stephen Rippon of the Archaeology Department, University of Exeter. The report is called 'Stonebridge: An Initial Assessment of its Historic Landscape Character' and it focuses on origins and development of the 'historic landscape' (i.e. the present-day pattern of fields, roads and settlements). The full report is available online and can be read here.
The 0rdnance Survey Six-inch Map of 1923 (left), clearly shows the buildings which existed on Bolts, Trumpions and Roper's Farm. The track that leads from Mucking Hall Road to Trumpions also branches off towards 2 buildings which do not exist today but occupied what is now the Bolts Farm estate. No church is shown on the series of OS Six-inch Maps which date back to 1873 but hopefully at some later stage, Tithe maps of the area will become available to prove the existence of a church.
Trumpions 1,2 was first documented in 1777 as a 15th century house (RCHME 3 1923, 11) and was situated 300 yards south west of Ropers Farm House, with a central Hall and East and West cross-wings. The Hall roof was raised and a first floor inserted. In the East wall was a blocked two-light window with diamond-shaped mullions. The Cottage was situated 100 yards north west of Trumpions and had modern additions at the East and West ends. The house was formerly the property of George Asser, and tenanted by George Vassal. It was sold in 1800 to Daniel Phillips (whose second wife was Mary White) for £500. John Parsons, of Foulness, was the owner in 1867 having acquired it by marriage with Mr. Phillips's daughter Charlotte. Bolts was listed as 16th century or earlier and Roper's Farm was first documented in 1768. (RCHME 3 192 11) with its barn listed early 16th century and was converted into a house in the late 18th century.
The existing Trumpions Barn is situated a few yards north of the now demolished Trumpions House. According to the UK Census of 1881 there were 21 people living on the Trumpions Farm estate, in three households. John Parsons at the age of 89yrs was living in Trumpions House with his two daughters and two servants. He stated his occupation to be a farmer of thirty-five acres employing two men: James Targrass an agricultural labourer with his wife and three sons lived in one of the cottages and John Crosbie, an agricultural labourer with his wife and nine children lived in the other cottage.
John Parsons actually died on 22 April 1881 almost three weeks after the official UK Census of that year. In John's will he left "every property estate and interest devised to me by the Will of my late brother Christopher Parsons deceased to my son Henry Parsons and William Henry Knapping" on trust to sell and divide the proceeds between his children, Thomas, Henry, James, Charlotte, Lucy, Elizabeth and Susanna.
According to the UK Census of 1881, Bolts Farm was listed as having 5 households: Joseph Reeve, a Retired Farmer (4 occupants); George Snow, a Groom (7 occupants); James Cottiss, an Agricultural Labourer (6 occupants); William Bartram, an Agricultural Labourer (4 occupants); James Smith, an Agricultural Labourer(6 occupants).
An entry in the Sale Catalogue of 1912 recorded Trumpions Farm and many other dwellings being sold by the trustees of the Will of Thomas Beaumont Hudson, who died in 1894. A later entry in the Sale Catalogue of 1926 recorded Trumpions Farm in Barling as consisting of a timber, plaster and tiled farmhouse, a pair of cottages, and land. John Parsons leased Trumpions Farm to John Gladwell of Great Wakering for 7 years from 29 September 1830 at an annual rent of £90.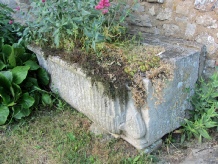 More recently, local farmers, Bill and John Pavelin found a large ancient sculptured stone trough in the meadow of the existing Wildlife Reserve. Using tractors, they transported the trough to the outside west facing wall of the South Porch of All Saints Parish Church in Barling, where it stands today. It has quite ornate feet and is believed to have possibly originated from the old demolished church in Barling Parva.
There is no mention of such a church or the parish of Little Barling or Barling Parva in the Essex Record Office leaving no convincing documentary evidence or description of its structure, exact location or reason for its demise. Bill recalls another dwelling which he called 'Khaki Villa' situated between Ropers Farm House and the cottages. Also to the north west of the cottages was a pond close to the seawall and north of Bolts Farm, called 'Cutlers Pond'.
The parish name of Barling Magna alone is indicative of the existence of another Barling parish, Barling Parva or Little Barling and interestingly, in a book called 'Lost Parish Churches of Essex' by Andrew Barham, there is mention of the forgotten parish of Little Barling. The following is an extract from the book:
Little Barling
(OS Ref: TQ 9180 8988)
Like so many other lost churches, little is known of this forgotten parish and church. If it were not for the fact that the parish of Barling Magna (Great) was still so-called, then I may have completely missed the existence of Barling Parva (Little). In fact, even Rodwell makes no mention of its existence.
The church of that lost parish is said to have been in the vicinity of Bolt's Farm to the north of the current parish. What are thought to be the foundations of this church were dug up in a field there just a few years ago. In dry summer months, it is said to be still possible to make out the faint outline of the church from the air.
This scant information is all I have been able to glean. There is no mention of it in the Essex Record Office and therefore no description of its structure, exact location or reason for its demise.
The Google Earth Image (2016) below, clearly shows where the demolished buildings on Bolts Farm stood but there is no conclusive evidence that one of these buildings was in fact a church.
Sources
1 Stonebridge: An Initial Assessment of its Historic Landscape Character, by Stephen Rippon.
2 An Inventory of the Historical Monuments in Essex, Volume 4, South east (London, 1923), pp. 10-12. British History Online http://www.british-history.ac.uk/rchme/essex/vol4/pp10-12 [accessed 27 September 2016].
3 The Royal Commission on the Historical Monuments of England (RCHME) was a government advisory body responsible for documenting buildings and monuments of archaeological, architectural and historical importance in England. It was established in 1908 (shortly after the parallel commissions for Scotland and Wales); and was merged with English Heritage in 1999.